How To Prevent Childhood Obesity In Just 7 Steps
"I don't want my kids growing up obese. What do I do?"
"My children's diet and nutrition are poor. I need to turn this around NOW before they get fat!"
"What can I do at home to prevent childhood obesity?"
"I cannot believe how many foods and drinks are total garbage. How can I stay on the straight and narrow?"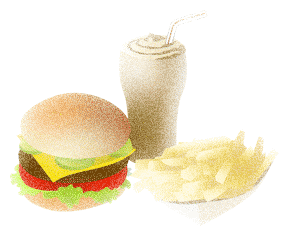 The number of obese children has tripled over the past thirty years. The reasons are twofold: poor diet and an inactive lifestyle.
The good news is that childhood obesity can be reversed and prevented.
Here are seven simple tips and strategies to help children stay healthy and active.


Limit sugary drinks and snacks.
Make them a treat rather than the norm. Aim for one sugary drink or snack each week. Take care to not make sugary snacks a reward. They can be part of a celebration or a special tradition. However, when food becomes a reward it sends the wrong message to a child.

What drinks and snacks need to be reduced or removed from your home entirely?

Limit the time a child is allowed to look at or sit in front of a screen.
That includes televisions, computers, handheld games, smartphones, tablets and iPods. Electronic devices have become part of society. However, they don't need to dominate a child's day. If you don't want to struggle with arguments, consider getting a device that limits the time your child can watch television.
Move the computer to the center of the home, and keep all electronic devices in a central location. Make children sign their electronics in and out.

How much time per day will be allowed?

Find an activity the child loves.
There are so many fun things a child can do that gets their body moving and their blood pumping. Take a look at what's offered in your community. Explore teams, classes and lessons. Take a look at some out of the box ideas like ice skating, skate boarding, rock climbing, dancing, and Thai kickboxing or jiu-jitsu.

What does your child like to do? What will they try?

Provide your child with a variety of fruit and vegetable options.
Ideally your child will eat five fruits and vegetables each day. Support them to try new foods. It may take some time for their taste buds to appreciate some vegetables. Be patient.

What do they like? What wil they try?

Be a good role model.
Your child will emulate your behavior. Eat a healthy diet and live an active lifestyle. Honor your body and your health and your child will too.

What do you need to change to be a better role model?

Eat as a family.
When families sit down together for mealtime, children tend to develop a different appreciation for food. Also, get active together. Take family hikes. Play family games outdoors. Go for bike rides together. Play football or go skiing or sledding.

What will you do more of as a family?

Eat in more often.
Restaurant food is generally high in fat, salt and sugar. It's just not good for you. Eating at home gives you and your family more control over what you put into your body. It's generally MUCH healthier.

What's on your home menu?

Living a healthy lifestyle isn't difficult. However, it does take attention and planning.
Plan activates for your family. Pay attention to your child's activity level and screen time. Plan meals and help your child learn to make healthy choices for life.
Just do it. You children will thank you when they grow up happier and healthier.

Lose weight, keep it off and solve your problem, click here.